Kim's Keys
Posted On: July 6th, 2021 8:41PM
It may seem hard to imagine that the home you're in today – whether it's your starter home or just one you've fallen in love with along the way – might not be your forever home.
Many needs have changed in 2020, and it's okay to admit if your house no longer fits your lifestyle. If you're now working remotely, facilitating virtual school, trying to exercise at home, or simply just spending more time in your own four walls, you may be bursting at the seams in your current house.
According to the latest Home Price Insights from CoreLogic, prices have appreciated 7.3% year-over-year. At the same time, the National Association of Realtors (NAR) reports that inventory has dropped 22% from one year ago.

These two statistics are directly related to one another. As inventory has decreased and demand has increased, prices have been driven up.
This is great news if you own a home and you're thinking about selling. The equity in your house has likely risen as prices have increased. Even better is the fact that there's a large pool of buyers out there searching for the American dream, and your home may be high on their wish list.
Bottom Line
If you think you've outgrown your current home, contact me to discuss local market conditions and determine if now is the best time for you to sell.
Posted On: July 6th, 2021 8:40PM
Millennials have waited longer than any other generation to become homeowners, but the wait for this cohort is just about over. According to National Mortgage News,
"Millennials, those young adults now aged 23 to 38, are now entering their peak household formation and homebuying years."
If you're a Millennial, you're already well aware that you're among a generation of those who favor fast-paced, real-time answers – and results. When you're ready to make a decision, it's go-time, and you probably want the latest technology at your fingertips to make it happen.
National Mortgage News agrees, stating,
"Millennials are different than previous generations—not only in their delayed homebuying but also in how they approach interactions with financial institutions, including mortgage lenders. Taking a picture of a check on their phone and depositing it without visiting a branch is not novel, it's the way Millennials learned to do banking. They expect real-time access to account and transaction data and are frustrated when it's not available."
Here's the catch – the overall speed of the home buying process can take some time, and it might feel like it is slowing you down. When you're ready to buy, you can make an offer and go under contract quickly, but the rest of the process might take a little longer. The same article explains why:
"When Millennials apply for a loan, the mortgage lender must qualify the borrower and determine who owns the property, how much the property is worth, and the property's risk profile. Traditionally, this has been one of the most time-consuming and fragmented parts of the mortgage process…There are many moving pieces, each data point being sourced from a different provider, which can ultimately lead to a lengthy or delayed process.

What has historically been accepted as the process norm does not align with the expectations of the most prominent generation in the home buying market today. Millennials have come to expect rapid, digital workflows in their daily purchase decisions, and in their mind, the home buying process shouldn't be any different."
So, where do you go from here?
If you're pre-approved for a mortgage, that will help speed things up. But the steps it takes and the time to finalize a loan with most traditional lenders may feel like an eternity to you and your generational peers. Don't worry, though – it's well worth the wait when you finally get the keys to your new castle!
The financial benefits of homeownership, like increasing your net worth by building equity, and the non-financial benefits, like being able to customize and improve your space, will ultimately set you on the course to happiness, success, overall satisfaction, and much, much more.
Bottom Line
If you're feeling like it's go-time, contact me so that we can get the process moving to determine if homeownership is your next best step.
Posted On: July 6th, 2021 8:39PM
Even in today's sellers' market, setting the right price for your house is one of the most valuable things you can do. According to the U.S. Economic Outlook by the National Association of Realtors (NAR), existing home prices nationwide are forecasted to increase by 4.5% in 2021. This means experts anticipate home values will continue climbing next year. Danielle Hale, Chief Economist for realtor.com, notes:
"We expect price gains to ease somewhat in 2021 and end 5.7% above 2020 levels, decelerating steadily through the spring and summer, and then gradually reaccelerating toward the end of the year."
How to Price Your House
When it comes to setting the right price for your house, the goal is to increase visibility and drive more buyers your way. Instead of trying to win the negotiation with one buyer, you should price your house so that demand is maximized and more buyers want to take a look.
As a seller in today's market, you might be thinking about pricing your house on the high end while so many of today's buyers are searching harder than ever just to find a home to purchase. But here's the thing – a high price tag does not mean you're going to cash in big on the sale. It's actually more likely to deter buyers.
Right now, even when there are so few houses for sale, your house is more likely to sit on the market longer or require a price drop that can send buyers running if it isn't priced just right from the very beginning.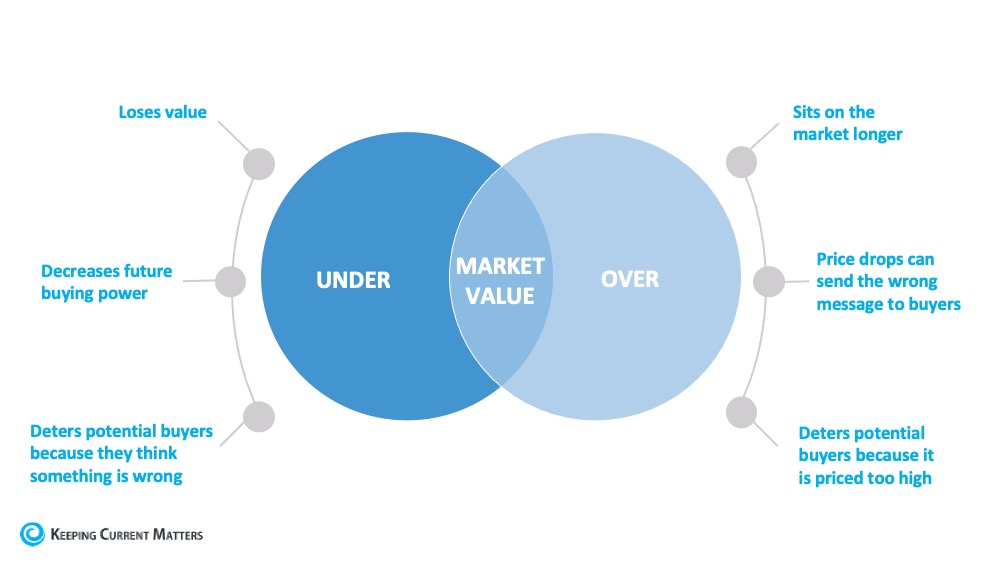 It's important to make sure your house is priced correctly by working with a trusted real estate professional throughout the process. When you price it competitively from the start, you won't be negotiating with one buyer. Instead, you'll likely have multiple buyers competing for the house, potentially increasing the final sale price.
The key is to make sure your house is priced to sell immediately. This way, it will be seen by the greatest number of buyers. More than one of them may be interested, and it will be more likely to sell at a competitive price.
If you're thinking of selling your home. Contact me so that I can help you price your home to sell immediately.
Posted On: July 6th, 2021 8:38PM
This year challenged us to reprioritize everything – from the way we use our time to where we work, how we socialize and gather together, and our needs at home. For many, this also meant making decisions about how to best support and engage with our extended families, near and far.
In some cases, we weren't able to see our relatives and loved ones who were living in senior facilities. In others, maybe older children moved back home. Jessica Lautz, Vice President of Demographics and Behavioral Insights for the National Association of Realtors (NAR), says:
"A lot of families have an aging senior relative who was living independently or in senior care and wanted to move them into their home."
These changes led more homebuyers to invest in multi-generational homes to accommodate more long-term plans. A multi-generational home, according to the 2020 Profile of Home Buyers and Sellers from NAR, is a home that has adult siblings, adult children over the age of 18, parents, and/or grandparents in the household.
A recent study from NAR shows that since the health crisis began, there's been an increase in purchasing trends for homes that cater to this dynamic:
"Buyers who purchased after March were more likely to purchase a multi-generational home at 15% compared to 11% who purchased before April."
There are many reasons for this uptick in preference toward multi-generational homes. The graph below shows the top two reasons and how they've increased this year: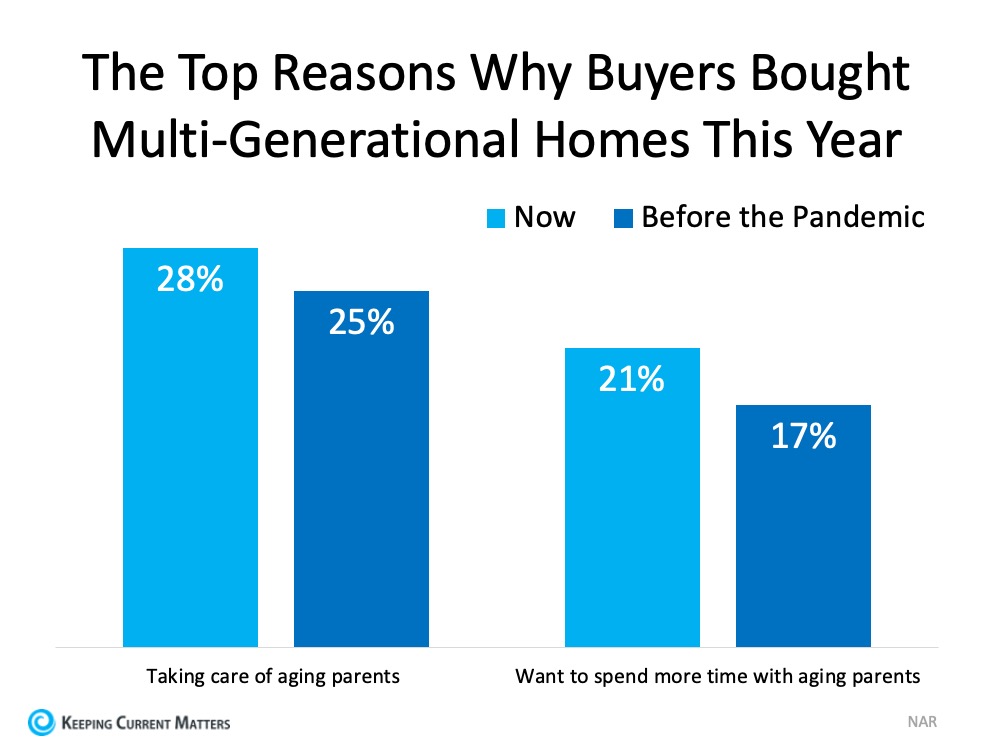 Bottom Line
More homeowners are making arrangements to accommodate their loved ones so they can safely take care of them at home. If you're in a similar situation, contact me so you can learn more about your local options and have your family under one roof sooner than you think!