The Scott Hagues Real Estate BLog
Posted On: February 1st, 2021 11:10PM
From NWMLS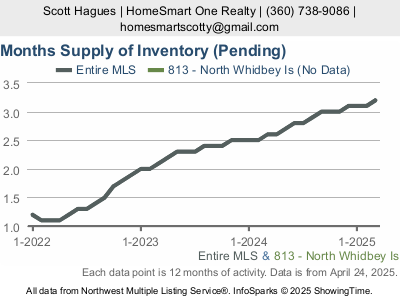 Inventory is a big deal. If you have a lot of inventory in the market you have yourself a buyer's market. Buyer controls the outcome more. Right now we are in a Seller's market with multiple offers the seller has control.
Posted On: January 30th, 2021 7:37AM
At Frida's, A Beautiful Mess there is paper arts, scrapbooking, card making, embellishments, and unique finds.
Address: 721 SE Pioneer Way, Oak Harbor Wa 98277
01-30-2021
Posted On: November 26th, 2020 7:13AM
I want to give my cats and my dog Chowder treats during the holidays this year. I realize I have to be careful not to share people food such as chocolate, etc that could be a recipe for disaster. People food can have a lot of of fat, sugar, salt, and other seasonings and ingredients that can make my cats and Chowder sick.
Here are some ideas that I may check out (from animalfoundation.com)
1. Set aside some turkey (unseasoned) and cranberries for Turkey and Cranberry Dog Bones.
2. Izzy's Apple Cheddar Dog Biscuits suggested for puppies. Use a holiday-themed cookie cutter to make them extra appropriate for the season!
3. Delicious and healthy for our cats - 3-Ingredient Salmon Treats full of omega-3 fatty acids and calcium. Dogs like them too according to the site.
4. Try out a sweet potato side dish for your friends and family? Grab an extra spud and create these dog-
friendly Sweet Potato Peanut Butter Sandwiches. People edible and according to the site your pooch will enjoy them more!
5. Cross "better pet breath" off the wish list; the Apple Mint Christmas Dog Bones have you covered! The
mint helps freshen dog breath and aids in digestion, too.
6. If your cat goes crazy for tuna, try these Crunchy Tuna Cat Treats.
7. For something quick. These Two-Ingredient Dog Treats should do the trick. This recipe looks totally tasty, as do the other nine dog treat recipes featured in her blog post!
8. Try a fancy slice of Woof Loaf! Cats and Dogs both love it accoring to the site and the siye says it is grain-
free.
9. These Pumpkin Peanut Butter Dog Treats are sure to be a hit year-round with furry family members.
They're good for them, too, as pumpkin is loaded with fiber and beta-carotene.
10. This recipe for Homemade Organic Cat Treats adds a little kick of catnip (optional)
Posted On: November 23rd, 2020 4:38AM
Posted On: July 12th, 2020 8:05PM
1. Spouses of personnel who died in service or from a service
connected disability and have not remarried before age 57.
2. Spouses of prisoners of war or those listed as missing in action.
3. Spouses receiving Dependency and Indemnity Compensation
(DIC) benefits even if the veteran's death was not service
4. Spouses of 100% disabled veterans whose death was not service